Canoe Intelligence Honored in Family Wealth Report Awards Three Years in a Row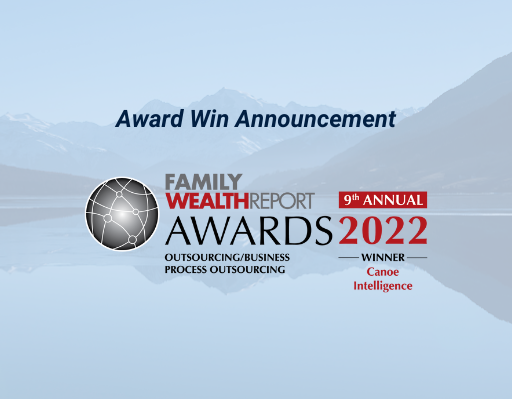 NEW YORK, May 11, 2022 – Canoe Intelligence ("Canoe"), a financial technology company powering alternative investment intelligence, today announced it has won the "Outsourcing / Business Process Outsourcing" category in Family Wealth Report's 2022 awards program. Previously, Canoe has been recognized with Family Wealth Report Awards in the Client Onboarding (2021) and Innovative Client Solution (2020) categories.
Showcasing 'best of breed' solutions, the awards have been designed to recognize outstanding organizations. The prestigious panel of independent judges identify companies, like Canoe, that have 'demonstrated innovation and excellence during the last year'.
The award win adds to the growth and progress made this year for Canoe, including new clients, new partnerships, and new hires. Canoe announced engagements with Global Endowment Management, Portfolio Advisors LLC, WE Capital Investimentos, and Goldrock Capital, among numerous others.
"As investment into alternatives continues to increase, it is more vital than ever for firms to have reliable and efficient processes in place to manage the associated investment data and documents," said Seth Brotman, President of Canoe Intelligence. "Over time, we have been systematically enhancing Canoe's technology to support these processes and Canoe is thrilled to be recognized by Family Wealth Report as the leader in automating this work for hundreds of family offices and alternative investors."
The judges noted that while many firms focus on general outsourcing, Canoe Intelligence is focused on an area of notorious operational difficulty for family offices – alternative asset tracking. As UHNW families focus more on alternatives, the need for reliable tracking and oversight will only continue to grow.
Canoe serves more than 160 alternative investment clients with automated alternative investment document and data management technology. These 160+ innovative, global clients have scaled their complex alternatives data processes, automated unruly document collection practices, and trust Canoe as their partner to power the future of the alternative investment industry.
Since Canoe's commercial launch, the company has been recognized each year with wins in various categories by Family Wealth Report, including Client Onboarding (2021), Most Innovative Client Solution (2020), and Outsourcing / Business Process Outsourcing (2019 Shortlist).
###
About Canoe Intelligence
Canoe Intelligence redefines alternative investment data processes for hundreds of leading institutional investors, capital allocators, asset servicing firms, and wealth managers. By combining industry expertise with the most sophisticated data capture technologies, Canoe's technology automates the highly frustrating, time-consuming, and costly manual workflows related to alternative investment document and data management, extraction, and delivery. With Canoe, clients can refocus capital and human resources on business performance and growth, increase efficiency, and gain deeper access to their data. Canoe's AI-driven platform was developed in 2013 for Portage Partners LLC, a private investment firm. Learn more: www.canoeintelligence.com
MEDIA CONTACT:
Betsy Miller Daitch
bdaitch@canoeintelligence.com
+1.443.690.6200