Global Endowment Management, LP Selects Canoe Intelligence to Scale Its Alternative Investment Documents and Data Processes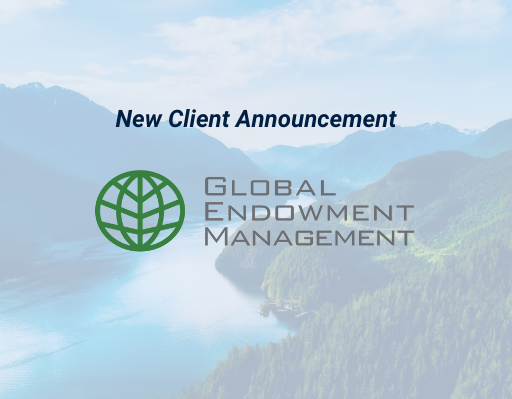 NEW YORK, January 25, 2022 – Canoe Intelligence ("Canoe"), a financial technology company redefining data management processes for alternative investors and allocators, today announced a new client engagement with Global Endowment Management, LP ("GEM"), a full-service Outsourced Chief Investment Office (OCIO) that serves mission-driven institutions.
GEM is implementing Canoe's technology to automate and scale its alternative investment processes associated with document collection and data extraction for its diverse client investors. GEM's client investors include national and international charitable foundations, respected universities and secondary schools, renowned research institutions, and nonpartisan policy organizations.
"For more than two decades, we have stewarded the financial assets of national and international endowments and foundations that enable our clients to fulfill their missions," said Matt Cooper, Director of Fund Operations at Global Endowment Management, LP. "By working with Canoe, we are able to scale our alternatives document and data operations and maintain our ability to be nimble and maximize portfolio results for clients."
"We're thrilled to partner with leading OCIO Global Endowment Management to implement automated technology to streamline alternatives document and data workflows," said Will Daly, Director of Institutional Accounts at Canoe Intelligence. "At Canoe, we are proud that our technology has helped so many firms scale their operational processes, serve their clients more effectively, and achieve sustainable growth."
###
About Canoe Intelligence
Canoe Intelligence redefines alternative investment data processes for hundreds of leading institutional investors, capital allocators, asset servicing firms, and wealth managers. By combining industry expertise with the most sophisticated data capture technologies, Canoe's technology automates the highly frustrating, time-consuming, and costly manual workflows related to alternative investment document and data management, extraction, and delivery. With Canoe, clients can refocus capital and human resources on business performance and growth, increase efficiency, and gain deeper access to their data. Canoe's AI-driven platform was developed in 2013 for Portage Partners LLC, a private investment firm. Learn more: www.canoeintelligence.com
About Global Endowment Management
Global Endowment Management is a full-service Outsourced Chief Investment Office (OCIO) that serves mission-driven institutions. One of the industry's first OCIOs, GEM was founded in 2007 to provide the advantages of a major university investment program to a wider range of mission-driven organizations. Today, GEM is a leading endowment management platform with more than $12 billion of AUM.
MEDIA CONTACT:
Betsy Miller Daitch
bdaitch@canoeintelligence.com
+1.443.690.6200