Canoe Intelligence Expands Product Suite with Canoe Tax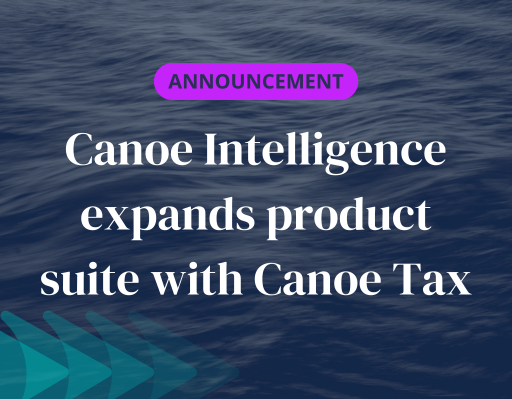 NEW YORK, OCTOBER 24, 2023 – Canoe Intelligence ("Canoe"), the financial technology company guiding the alternatives industry forward with smarter data management, proudly introduces its newest product, Canoe Tax. This addition to the Canoe suite of solutions builds on recent product releases, exemplifying Canoe's commitment to innovation and industry-leading product development in the alternative investment data space.
Canoe Tax streamlines the management of common tax documents, including Form 1099, Form 8621, Form ADV, state and federal K-1 and K-3, among others. The solution eliminates the manual processes associated with collecting, categorizing, and storing these documents. Further, in line with Canoe's Intelligence platform, Canoe Tax efficiently extracts and delivers the relevant tax data to downstream systems, resulting in significant time savings and data accuracy.
Canoe Tax is a tech-enabled add-on solution designed for Canoe clients, further enhancing their experience. Clients will benefit from:
Comprehensive Data Extraction: Canoe Tax extracts and normalizes 60+ data elements from the first page of Federal and State K-1s, delivering them in a standard flat file format.
Seamless Collaboration: Canoe Tax can provide document access for third-party tax professionals, accountants, and service providers to view a client's tax documents within the application, simplifying collaborative efforts.
Hassle-Free Integration: Canoe Tax seamlessly integrates with Canoe Connect and Canoe Intelligence, offering a smooth experience for existing clients without any additional onboarding.
Rapid Setup: The Canoe Tax setup process typically takes just 1.5 weeks, during which Canoe audits a one-time mapping of data fields to establish accurate and efficient extraction.
Furthermore, for more complex tax data needs, Canoe collaborates with expert vendors in the space to facilitate data reconciliation, tax form preparation, and integration with tax preparation software.
Mike Muniz, Chief Revenue Officer of Canoe Intelligence, emphasized the significance of Canoe Tax within the broader context of Canoe's evolution, stating, "Canoe Tax signifies an important milestone in our journey, reaffirming our commitment to streamline our client document and data workflows, and drive operational efficiency. As we continue to transform into a fully integrated, cross-functional platform to meet evolving client needs across the front, middle, and back office, we are aligned with the industry's call for comprehensive, accurate data. Canoe Tax exemplifies our mission to provide transparency and foster innovation, marking a pivotal step in our ongoing journey."
This launch follows our announcement of the Canoe Data Innovation Hub and our plans to develop and deliver Canoe Asset Data through a design partnership with 13 existing clients. These product development programs build upon Canoe's recent successes, including 100% year-over-year growth and a strategic $25 million Series B financing round in February 2023. Canoe continues to advance operational excellence through the expansion of its platform and product suite, exemplifying its commitment to innovation and industry-leading product development in the alternative investment industry.
###
About Canoe Intelligence
Canoe Intelligence ("Canoe") is a financial technology company dedicated to advancing alternative investment intelligence for institutional investors, capital allocators, wealth managers, and asset servicing firms. Canoe empowers clients with technology, data, and insights to manage alternative assets more efficiently, accurately, and confidently. With a commitment to innovation and excellence, Canoe is redefining the future of alternative investment data management.