Embracing Innovation: Insights from InvestOps Europe 2023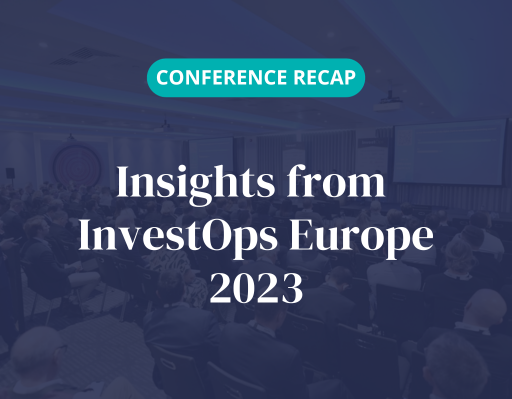 Introduction
In the dynamic landscape of alternative investments, navigating turbulent market conditions, embracing digital transformation, and adapting to new regulatory mandates are paramount in the race to get ahead.
InvestOps Europe 2023, an annual gathering for buy-side investment operations leaders across leading asset managers, hedge funds, and pension funds, offered a unique platform for exchange of knowledge and exploration of innovative strategies. With approximately 250 attendees, the conference's mission was clear: providing actionable insights on utilizing technology to enhance processes, reduce costs, and drive business value.
Canoe Intelligence, the industry leader in alternative investment document and data management technology, played an important role at the conference, participating in not one but two insightful panels.
The first panel, "Creating a Front-to-Back, Digital-First Operating Model," examined the essential steps required for a successful digital transformation across multi-asset class portfolios. The panel discussed transitioning from legacy systems, integrating processes, ensuring that digital transformation results in business value, and driving continuous improvement in operational capabilities through technology upgrades.
The second panel, titled "Generating Greater Data Insights," delved into the pivotal role of data in optimizing operations and supporting advanced analytics. It addressed cross-functional data management pain points, the importance of data standardization, and practical strategies to seamlessly integrate AI, ML, and analytics tools into operations.
In this blog post, we spotlight Canoe's contributions to both panels, emphasizing the thematic parallels and offering valuable insights for alternative investors looking to harness technology and elevate their operational capabilities.
Panel 1: Keynote Panel: Creating a front-to-back, digital-first operating model
Panelists:
Malcolm Palmer, COO, Fidelity International
Krzysztof Wierzchowski, VP Securities Services and Board Member, Franklin Templeton
Evan Fire, COO, Pzena Investment Management
Toby Bailey, VP of Sales, EMEA, Canoe Intelligence
Moderator:
Sean Kennedy, Asset & Wealth Management Consulting, Alpha FMC
Championing Digital Transformation
In this panel, hosted on the pre-conference, Innovation Day, the experts examined the transformation journey within the alternative investment sector. A prevailing trend was the drive to future-proof legacy systems and establish clear strategic goals. The discussion focused on navigating the expansion into private assets and embracing a digital operational model, in line with the industry's evolving trends.
Integrating for Success
Integration was a common theme, with a particular focus on bridging the gap between front and back-office operations. Short timeframes and the importance of breaking down large transformation projects into manageable blocks were key strategies to ensure a successful transition.
Exploring Emerging Technologies
The discussion revolved around the adoption of exciting, emerging technologies. Customization for asset owners, data governance, and the potential of AI and blockchain were also key focal points. Canoe Intelligence mentioned cautious exploration of the use of Large Language Models (LLM) to identify trends in private market data, harnessing the power of AI for enhanced data insights.
Data Verification and Transparency
Ensuring data accuracy within documents and providing transparency in data sourcing were touched upon. Canoe Intelligence's role in tracking data sources was emphasized, as it offers a maker-checker workflow.
The panel concluded with a poll revealing the major blockers preventing firms from achieving a fully digital, front-to-back operating model. Challenges like legacy systems, complexities in trading multiple asset classes, and insufficient tools and technology ranked high among the audience's concerns.
Panel 2: Innovation Panel: Generating greater data insights:
Panelists:
Evan Fire, COO, Pzena Investment Management
Tom Cunningham, Head of Investment Operations, Hargreaves & Lansdown
Eigil Ingebritsen, Global Head of Investment Controls and Analytics, Storebrand Asset Management
Sally Bashuan, Executive Director – Head of Data Governance, Federated Hermes
Aman Soni, VP of Data Strategy, Canoe Intelligence
Moderator:
Virginie O'Shea, CEO and Founder, Firebrand Research
Challenges in Cross-Functional Data Management
The second panel, held on the first official day of the conference, delved into data management challenges. Topics included the influence of regulations, the scalability of data, and the challenges of combining data from various sources.
Driving Data Standardization in Private Markets
The panel addressed data management challenges, with a focus on the crucial aspects of data quality and ensuring that AI and ML models receive the right data. Discussions underscored the benefits for clients, particularly in terms of enhanced entity resolution and management. These conversations aligned with ongoing industry-wide efforts to standardize data in the private markets. Canoe Intelligence's participation in this landscape reflects the industry's shared commitment to driving these essential standards.
Words of Advice on Data Challenges
Advice was shared on addressing data challenges, focusing on building out cross-functional teams to drive change, and maintaining a long-term focus.
Conclusion
In conclusion, these panel discussions at InvestOps Europe 2023 provided a comprehensive exploration of the significant opportunities and challenges in adopting technology for operational leaders at buy-side firms. The insights shared by industry experts, including representatives from Canoe Intelligence, guide alternative investors on their journey toward a digital-first operating model that drives efficiencies and creates business value. By addressing legacy systems, focusing on integration, embracing emerging technologies, and ensuring data accuracy and transparency, alternative investors can navigate the evolving landscape with confidence. The key takeaways underscore the essential role of data and technology in enhancing operational capabilities, creating business value, and meeting the growing demands of the alternative investment sector.