Canoe Client Success Stories: USC Investment Office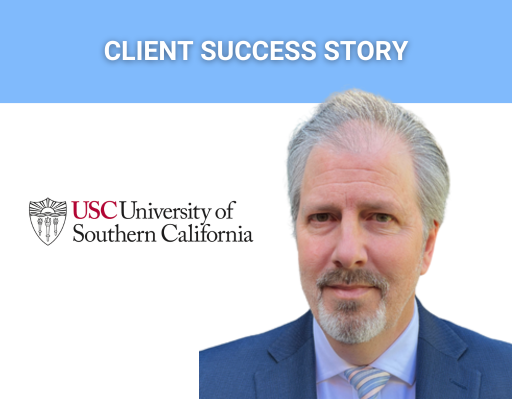 SUMMARY
In February 2023, Bob Ohanesian, Investment Operations Manager, from the University of Southern California (USC) Investment Office, participated in a Canoe Partner Spotlight Webinar featuring Bipsync to share his team's experience with Canoe and Bipsync technologies for alternatives documents and data management.
Before implementing these tools in June 2022, USC leveraged a legacy system that was clunky and underutilized.
The combination of Canoe and Bipsync enables USC to scale their alternatives document and data management practices and support ongoing growth. Canoe gathers, categorizes, and tags documents and also renames them to a standard naming convention. Bipsync allows USC to search for and easily find documents. Integrating Canoe with Bipsync was simple, and, as of February 2023, USC had already integrated almost 7,200 documents. Bob summarizes the value of the combined solution of Canoe and Bipsync in one word: efficiency.
Learn more about the University of Southern California Investment Office's experience with the Canoe x Bipsync solution.
See below for the full transcript of the Q&A between Kim Raymonde, Head of Partnerships at Canoe, and Bob Ohanesian, Investment Operations Manager at the University of Southern California Investment Office.
Q&A TRANSCRIPT
Kim Raymonde (KR): We are super grateful to have Bob Ohanesian from University of Southern California Investment Office with us today. Bob uses Canoe and Bipsync together. Bob, can you tell us a little bit about USC and your work there?
Bob Ohanesian (BO): Thanks, I'd be happy to. I'm the Investment Operations Manager for the Investment Office at USC, and our primary responsibility is managing the university's endowment. There are a couple of other pools of money, but the endowment is the big pool and is anywhere between $7.5 and $8 billion, depending on the day or the time of year and market conditions, obviously. We have close to 400 line items, or unique investments, that we track. With that amount, there are a lot of documents that are generated, so we looked for a solution and this is what we found. It's been great for us.
KR: Great, thank you. To set the stage a little bit, what was your document management process like before you implemented Canoe and Bipsync?
BO: We had a legacy system that we used to manage our contacts and source some of our documents. We found that it was kind of clunky, didn't look very smart, didn't act very smart, and the team didn't utilize it very well.
KR: As you began to search for a replacement for that legacy system, what were the specific capabilities that you were looking for?
BO: We knew we needed a much more dynamic solution: something that looked good, acted good, and was smart with searchability features was definitely key. We wanted to be able to know that the documents were there and find them easily, and we needed a solution to collect the documents. We didn't want to spend the time–hours in a month–collecting documents. Those were our two main criteria: having a smart, dynamic, searchable system and data collection.
KR: Now that you have implemented Canoe and Bipsync, can you talk a little bit about how that has changed the way your team is managing documents?
BO: It's been great. Canoe does all the heavy lifting as far as gathering documents for us, tagging them, categorizing them, and renaming them to a standard naming convention. It sounds like a simple thing, but I think that that in itself is very cool. No matter what the document is titled when it goes into Canoe, we have it set up to where it's manager name, document type, data date, so it's all going to be very consistent with Canoe doing all that work every 15 minutes.
We have a cadence set up where these documents flow into Bipsync. In Bipsync, we know that the documents are going to be tagged correctly, and we're going to be able to search for them easily and pull out anything that we need from there. It's been great.
KR: How was your experience actually integrating Canoe with Bipsync to get that document flow set up?
BO: It was actually pretty easy. Initially, we did a lot of work on the back end just because of our old system, and the thousands of documents we had in there. A lot of the documents may have been mistagged, so we did some cleanup. We wanted to make sure that we mapped certain fields from the old system to Bipsync, and we pared down those fields and those tags so we didn't have 100 different things to choose from. We wanted to narrow it down and make it a little bit more simple so that initial work was on us to come up with those mappings and those fields. Once we did that, we gave it to the Bipsync team, and it was really easy to set up. I was always amazed at how dynamic Bipsync actually is. Being on a call with the Bipsync Team and saying, "Hey, we want to see this" and in couple of key taps, he's like, "How does this work for you?" It's been very much customized to us and what we want to see, the fields that we want to utilize, and the naming and the tabs that we have.
KR: Can you give us a sense of the volume? How many documents have you been integrating between Canoe and Bipsync?
BO: That's a great question. I was looking, and just the other day, I said 7000. Now we're up to almost 7200 documents that have flowed from Canoe to Bipsync since we started. We turned on the integration on June 24, 2022, so it's been less than a year. We've had 7200 documents come over from Canoe into Bipsync. If you compare that to the number of documents that we had collected in the old system, which we had in place for almost ten years, I think we had 25,000 documents come over. If you do the math, you can see that we're much more efficient using Canoe and Bipsnc together. Many more documents are being stored systematically than we had in the old system, so it's been such a pleasant surprise.
KR: Thanks for sharing that. If you were to say in one word, what the value of the combined solution of Canoe and Bipsync is for you: what would that one word be?
BO: I already used it: it's efficiency. The efficiencies created with Canoe doing all the heavy lifting in gathering those documents for us. I'm the guy who was going out there and grabbing audited financials and K-1s for our auditors and our tax preparers. Over the years, I spent countless hours doing that, going to portals, grabbing those documents, and saving them in different places. Just that right there has been a huge time-savings for us. Our investment team being able to use Bipsync and utilize its features, like saving notes directly into Bipsync, starting the process of evaluating a manager from scratch and using Bipsync to do so, and, eventually, moving them from a prospective manager tab—to press the button to an investor tab. Later on, eventually, as these managers fall off, we turn them into terminated status. The whole system has been very easy to use, and collectively, together, it's been wonderful. It's helped make our process a lot more efficient.
KR: That's fantastic, thank you.
BO: I'm happy to share. My boss is very happy, and when she's happy, we're all happy. She loves being able to log into Bipsync and know that the documents are there and find them easily. She travels a lot and meets with managers, and she wants to see the most recent meeting notes or the most recent manager letter they're there for her, so she's happy.
KR: How long was the transition from your previous system to Bipsync? How long after the implementation did you onboard Canoe, and how long did this onboarding take?
BO: I think the bulk of the time was the preparation that we needed to do to clean up our act on our side. That was making sure that the data coming from the old system was clean and categorized. We were, as I mentioned, narrowing down the number of fields and things that we were looking at, so that took us a few months just to get our act together. Once that was in place, Brian and his team had set up Bipync, which didn't really take very long. Like I said, it's very dynamic. They showed us several examples in a sandbox environment, and we were able to have them change some things on the fly. It felt like really just a few months of preparation after we cleaned up our data, so it wasn't very long at all. Getting the data from our old provider took a little bit of time, but once it was sent over to Bipsync, they ingested it very quickly.
KR: Thanks so much for participating today and sharing your thoughts on Canoe and Bipsync. We really appreciate it.