Waldron Private Wealth Selects Canoe Intelligence to Scale Its Alternative Investment Documents and Data Processes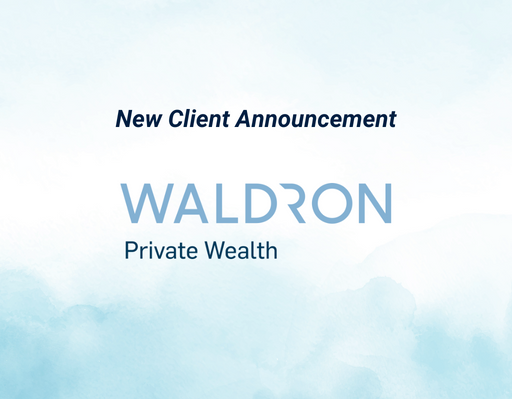 NEW YORK, July 7, 2022 – Canoe Intelligence ("Canoe"), a financial technology company powering alternative investment intelligence, today announced a new client engagement with Waldron Private Wealth ("Waldron"), an independent wealth management firm located just outside Pittsburgh.
Founded in 1995, Waldron Private Wealth serves the unique needs of business owners, families of multigenerational wealth, and corporate executives with integrated wealth management services. Waldron is implementing Canoe's technology to automate and scale its alternative investment processes associated with document collection and data extraction.
"At Waldron, we believe that a multi-disciplined, holistic approach to wealth management leads to clarity for our clients. By partnering with Canoe, we are further executing on this promise," Benjamin Greenfeld, CFP®, Partner and Chief Investment Officer at Waldron Private Wealth. "Canoe enables us to automate the manual data work related to our clients' alternative investments, so the data we use to inform investment decisions is more efficient, and the service we are able to provide to our clients is more comprehensive."
"We're thrilled to partner with innovative RIAs like Waldron Private Wealth to enable automated technology to streamline alternatives document and data workflows," said Mike Purcell, Director of Sales and Business Development at Canoe Intelligence. "At Canoe, we are proud that our technology has helped so many firms scale their operational processes, serve their clients more effectively, and achieve sustainable growth."
###
About Canoe Intelligence
Canoe Intelligence redefines alternative investment data processes for hundreds of leading institutional investors, capital allocators, asset servicing firms, and wealth managers. By combining industry expertise with the most sophisticated data capture technologies, Canoe's technology automates the highly frustrating, time-consuming, and costly manual workflows related to alternative investment document and data management, extraction, and delivery. With Canoe, clients can refocus capital and human resources on business performance and growth, increase efficiency, and gain deeper access to their data. Canoe's AI-driven platform was developed in 2013 for Portage Partners LLC, a private investment firm. Learn more: www.canoeintelligence.com
About Waldron Private Wealth
Waldron Private Wealth is a boutique wealth management firm that helps a select group of individuals and families to simplify the complexities of their wealth. We limit the number of our engagements so we can truly focus on each client we serve. Our approach is to take a deep dive into the entirety of each client's financial life, identifying and mitigating risks, leveraging opportunities, and integrating all of the components into one coordinated strategy.
MEDIA CONTACT:
Betsy Miller Daitch
bdaitch@canoeintelligence.com
+1.443.690.6200