Client Spotlight: Legacy Knight : Multi-Family Office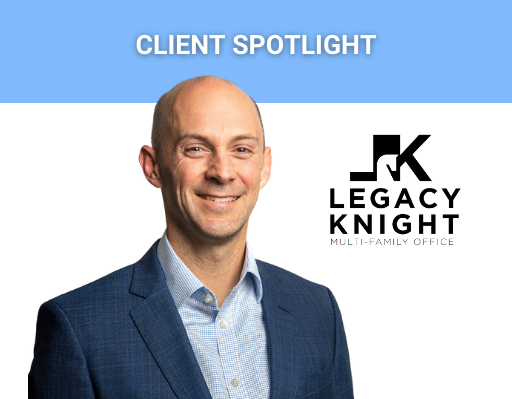 Canoe Intelligence talked with Brad Martin, Chief Financial Officer at Legacy Knight : Multi-Family Office about his experience managing alternatives documents and data, and how Canoe has helped the firm automate traditionally manual workflows and support business growth.
Legacy Knight is an independent, family and partner-owned Multi-Family Office providing tailored advisory services to, and investing alongside and on behalf of, ultra-high net worth families and family offices.
Tell us about your experience with alternatives documents and data management before using Canoe. What challenges did you face? How did you spend your time?
We utilize an endowment-style approach to investing, which means we invest in different alternative asset classes, both through SPVs we create and directly with fund sponsors. Prior to using Canoe, we spent a lot of time entering manual data, account values, capital calls, and distributions into our fund portfolio tracking system. And, once we entered the information, we would then have to check to make sure we included all the investors and recorded it correctly. So much of our time was spent on data entry and review that we seemed to have little time for anything else.
Why did you choose Canoe as your partner for alternatives documents and data management? Did you evaluate other solutions? Which Canoe features stood out to you in your evaluation process?
While we were looking for a way to streamline the subscription document process, we sort of stumbled upon Canoe. During our initial meeting with Canoe, I quickly realized that the technology didn't support subscription docs, but I remember being instantly impressed with their ability to streamline the data entry process into our portfolio reporting system. The way Canoe gathers the data from account statements, capital calls, distributions, or other notices continues to amaze me and simplifies our client reporting.
Since implementing Canoe at Legacy Knight, has your time spent on alternatives documents and data shifted in any way? How does Canoe perform relative to your expectations?
My expectations were that we'd be able to save significant time, as some of the SPVs we create can have more than 100 investors.
Instead of having to manually enter each capital call or quarterly account statement, Canoe takes the statements generated by our 3rd party administrator and provides us with a simple file we can then upload into our reporting software.
To keep up with our company's growth, we would have had to hire at least 2 or 3 people to manually enter all of the information. With Canoe, we are able to do this seamlessly without hiring additional resources. We are also extremely excited about the possibility of an API between Canoe and our reporting software that will further streamline the process.
How has automating your alternatives documents and data workflows with Canoe supported your firm's growth?
I have long told our CEO that I never want our back office operations to limit our growth – or put another way, I don't want the tail wagging the dog. That said, without Canoe, we would be hiring more data entry specialists, I would be spending significantly more of my time reviewing client data to ensure it was accurate and would be worried that our back office couldn't keep up with our growth.
As a company that provides white-glove service to our investors, we'd be juggling growing the business and providing our investors with new and amazing alternative investments. With Canoe, we do not have to choose.
Utilizing Canoe has automated the back office workflow and enabled us to move full steam ahead with our plans for growth.
What is the best part of your Canoe experience so far?
The best part – that's like asking what part of Thanksgiving dinner I like the best – it's all fantastic.
Streamlining the data entry process has been a lifesaver for our team. Canoe's client service team has been incredible – they typically respond to any questions we have in under 30 minutes, most of the time in less than 5!
Further solidifying the relationship, Canoe has introduced us to several other technology partners that we are now working with to help streamline and automate other avenues of our business.
Legacy Knight: Multi-Family Office announced its engagement with Canoe Intelligence in April 2021.