Client Spotlight: Capital Creek Partners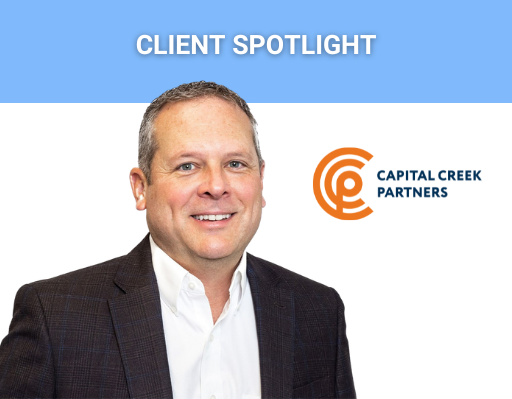 Canoe Intelligence talked with Mark Shoberg, Co-CIO & Managing Partner at Capital Creek Partners about his experience managing alternatives documents and data, and how Canoe has helped the firm automate traditionally manual workflows and support business growth.
Capital Creek Partners was founded as a boutique multi-family office that tailors to its clients' high-touch investment needs, ranging from complex family offices, foundations, endowments, and private investment companies. CCP offers a customized solution of services, including holistic investment management, centralized reporting, and detailed planning and administration. CCP customizes alternative portfolios around hard-to-access private markets investments through a global network of managers, sponsors, and co-investment partners. The firm's partners invest alongside its clients as an important distinction to maximize alignment and transparency.
Q1: Tell us about your experience with alternatives documents and data management before using Canoe. What challenges did you face? How did you spend your time?
Before implementing Canoe, we were faced with manually retrieving, sorting, saving, and collating all the communications from private funds (capital calls, account statements, updates, etc.) by hand. This process amounted to several hours of employee time every week going around to data rooms and checking inboxes for the most up-to-date information. After everything was collected, it would have to be manually sorted, saved, and tracked to ensure the data was available to the Investment and Reporting teams and tracked by Operations for payment. There were many challenges faced with this old process – forgetting certain data rooms, missing emails, saving files incorrectly, and duplicating transactions to name a few.
Q2: Why did you choose Canoe as your partner for alternatives documents and data management? Did you evaluate other solutions? Which Canoe features stood out to you in your evaluation process?
As our firm grew, it became clear that our current procedures for collecting and processing data were not sustainable, and the disorganization related to tracking the files was causing more confusion than clarity. We started looking for a solution for the organization part first; something that we could use to collect and sort the PDFs. After talking with Canoe, we soon learned that Canoe could not only organize the investment documents but could also extract and import the data into our wealth management reporting system.
Q3: Since implementing Canoe at Capital Creek, has your time spent on alternatives documents and data shifted in any way? How does Canoe perform relative to your expectations?
Using Canoe has freed up countless staff hours and allowed for continued client growth while maintaining a slim and efficient Operations staff. By shifting alternative document processing and management to Canoe, our Investment team can quickly review the various documents and rely on Canoe's extraction for near real-time uploading of the investment data into our wealth management reporting system.
Canoe has surpassed our expectations in both our internal data management and in our client deliverables. Our family office clients, through Canoe's customized user permissions, can access their own documents at any time without having to request or interact with the Operations staff. Canoe continues to add features and automations that further provide time savings.
Q4: How has automating your alternatives documents and data workflows with Canoe supported your firm's growth?
Using Canoe's technology to detect and upload various points of data to our reporting system has saved us valuable employee time. After a successful implementation of Canoe, our Operations department was able to spend more time on client-focused activities and firm growth. With this found time, we were able to reevaluate our hiring needs and workflow capacities.
Q5: What is the best part of your Canoe experience so far?
It is hard to choose the best part of our Canoe experience because there have been so many positive factors but the interface with our wealth management reporting has been a clear value-add to our firm. By utilizing Canoe, our operations team can spend less time searching for, downloading, analyzing, and pulling data from documents. The interface provides less room for human error which gives our team confidence in the data behind investment reports.
Mark Shoberg, Co-CIO & Managing Partner at Capital Creek Partners
Mark Shoberg is a Partner of CCP. Before joining CCP, Mr. Shoberg spent sixteen years working in senior positions with two prominent endowments. From 2016 to 2021, Mr. Shoberg was a Managing Director with Stanford Management Company ("SMC"). Prior to SMC, Mr. Shoberg spent over ten years with the University of Texas Investment Management Company ("UTIMCO"). At UTIMCO, Mr. Shoberg served as Managing Director, responsible for the firm's real estate, technology, and healthcare investing activities.
Mr. Shoberg's earlier work experience provided him with broad exposure to a number of industries, including technology, oil & gas, consulting, and real estate. This experience included working in the consulting division of Accenture (NYSE: ACN) and in the strategic development group of VerticalNet Inc., a software provider of on-demand supply chain management solutions and business-to-business procurement portals.
Mr. Shoberg received an MBA from the Stanford Graduate School of Business and a Bachelor of Engineering in Mechanical Engineering from Vanderbilt University.