Case Study: Lake Street Advisors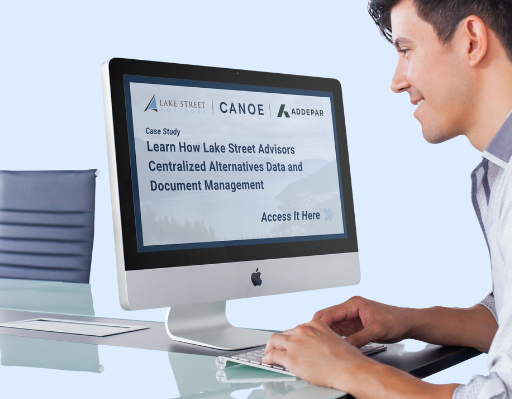 ABOUT LAKE STREET ADVISORS
Since 2003, Lake Street Advisors ("Lake Street") has worked with ultra-high-net-worth (UHNW) families helping them to define purpose, create strategy, and manage detailed execution of complex financial plans and investment portfolios. Located in Portsmouth, NH, and Boston, MA, the firm has four partners and thirty-seven employees managing over $2.9 billion in assets for 80+ UHNW families.
CHALLENGE
TECH LIMITATIONS THROUGH OUTSOURCED PROVIDER HINDERED EFFICIENCY AND ABILITY TO ANALYZE DATA
As Lake Street continued to grow its business and build custom, multi-asset class portfolios for its clients, their team was burdened by increasing manual document retrieval and data extraction tasks, specifically for their alternative and private market investments. In 2015, Lake Street made the decision to outsource these responsibilities to a third-party provider.
Over time, it became clear that Lake Street needed a more agile and tech-enabled solution to shift away from manual workflows and reactive data remediation, and toward automated processes. At the same time, they needed to harness data more effectively and connect to downstream systems.
In addition to streamlining their alternative data workflows, Lake Street sought a way to analyze alternative data in a more meaningful way. They needed a solution that would help them visualize performance across a variety of ownership structures and entities, and compare that performance at a granular level against a wide variety of targets and benchmarks.