Case Study: AdvicePeriod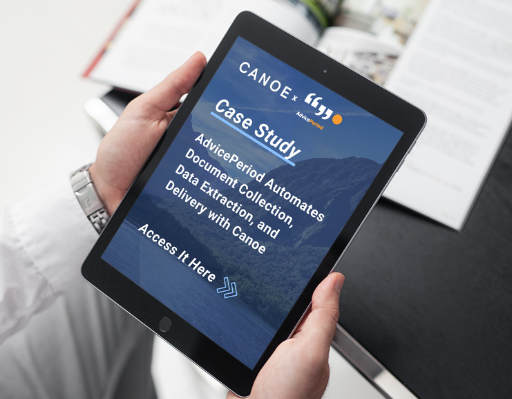 ABOUT ADVICEPERIOD
Headquartered in Los Angeles, CA with 16 offices nationally and $4B in AUM, AdvicePeriod is an SEC-registered investment advisor dedicated to focusing clients on the important decisions necessary to manage their wealth. By combining actionable planning advice with objective investment guidance, AdvicePeriod strives to enable clients to achieve their financial goals and shape their legacy for generations to come.
AdvicePeriod's technology stack includes Canoe Intelligence, SS&C's Black Diamond® Wealth Platform, and Salentica Elements™.
CHALLENGE
As AdvicePeriod's client base continued to grow, it faced challenges scaling its manual workflows around collecting alternative investment documents from multiple investor portals, processing the data within the documents, and delivering the data to downstream systems like Black Diamond. The firm wanted a technology solution to streamline and automate these repetitive tasks.