Canoe Intelligence's Michelle Wilson Named Technology Innovator of the Year by WatersTechnology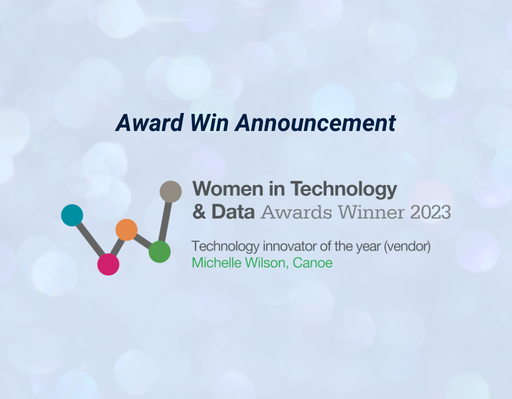 NEW YORK, March 10, 2023 – Canoe Intelligence ("Canoe"), the financial technology company powering alternative investment intelligence for institutional investors, capital allocators, wealth managers, and asset servicing firms, today announced its Head of Product, Michelle Wilson, was named "Technology Innovator of the Year" at the WatersTechnology Women in Technology & Data Awards 2023.
In celebration of this accomplishment, Wilson joined esteemed peers at the awards lunch hosted earlier today in London at the Corinthia Hotel.
Wilson is an innovative, investment-focused product leader with more than a decade of experience designing and delivering large-scale technology solutions. At Canoe, she is responsible for shaping product strategy and driving the execution of key initiatives to achieve Canoe's product vision.
In response to the win, Michelle Wilson remarked: "I am incredibly honored to be recognized by WatersTechnology this year for my contributions to building transformative solutions for our clients at Canoe. Our platform is focused on automating our clients' document management workflows and providing actionable insights from their data, thus allowing them to refocus their human capital on what really matters. I look forward to continuing to drive technology innovation in the private markets and alternative investments space."
The WatersTechnology Women in Technology & Data Awards celebrate great talent and promote networking amongst the community of strong women involved in technology and data within the capital markets space. Launched in 2018, the awards are designed to recognize and foster female talent through a focused technology and data program, ultimately aiming to increase female representation across the discipline.
"Beyond Michelle's deep industry expertise in alternative investments, her client-focused approach enables her to both define our long-term product vision and optimize our near-term roadmap to deliver the best outcomes for our customers," said Vishal Saxena, Canoe's Chief Technology Officer.
This news follows Canoe's recent completion of its Series B financing round. Canoe's platform has become a crucial solution for the alternative investment industry. Its global client base grew over 200% in 2021 and continued that pace through 2022. Canoe now supports over $5T in assets under advisement. The award also follows Canoe's recent win at the WealthBriefing WealthTech Americas Awards 2023 last month.
###
About Canoe Intelligence
Canoe Intelligence redefines alternative investment data processes for leading institutional investors, capital allocators, asset servicing firms, and wealth managers. By combining industry expertise with the most sophisticated data capture technologies, Canoe's technology automates the highly-frustrating, time-consuming, and costly manual workflows related to alternative investment document and data management, extraction, and delivery. Over 200 companies like Blackstone, Carlyle, State Street, SEI, and Hamilton Lane leverage Canoe to refocus capital and human resources on business performance and growth, increase efficiency, and gain deeper access to their data. For more information, visit www.canoeintelligence.com.
MEDIA CONTACT:
Betsy Miller Daitch
Canoe Intelligence
+1 443-690-6200
bdaitch@canoeintelligence.com