Q&A with Canoe: Addepar Partnership and Integration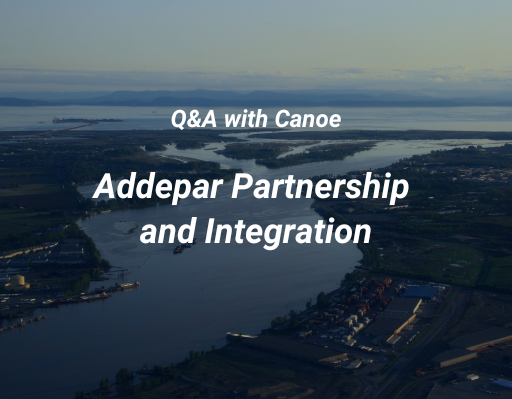 As more alternative investors are adopting Canoe to drive operational scale and business growth, clients expect more out-of-the-box integrations between Canoe and the other systems they use for alternatives reporting, accounting, and analytics.
In this Q&A with the Canoe team, we highlight our expanded partnership and API integration with Addepar. This Q&A features core members of the Canoe team responsible for this successful partnership including:
Kim Raymonde, Director of Partnerships & Integrations
Tim Loughrey, VP of Client Success
Michelle Wilson, VP of Product
Sam Charnizon, Product Manager
Q1: What is Canoe's approach to building partnerships with technology providers?
We are committed to enabling client workflows. Doing this effectively means that we are often integrating Canoe with our clients' other technologies.
In this process, we believe strong partnerships are like any good relationship. We look for partners that share common goals and values and communicate openly about what's working and what's not.
For technology provider partnerships, in particular, there is much coordination involved from product and development roadmaps to goals and milestones. At each phase, it's crucial we honor our commitments to resourcing mutual development projects.
At this time, we support a few different integration options. These include a growing list of system-specific data extracts that can be easily uploaded to downstream platforms, API integrations like the one we've just released for Addepar, and open APIs that clients and partners can use to develop their own custom integrations with Canoe.
– Kim Raymonde, Director of Partnerships & Integrations
Preview Kim's plans for the Canoe Partner Program in her recent Canoe Employee Spotlight.
Q2: How did the partnership between Addepar and Canoe come to be?
Addepar has long been focused on comprehensive reporting and consistently improving how wealth managers can illustrate a client's complete net worth. As Canoe has emerged as the leader in alternative investment-specific document and data management, we can enable what Addepar built by automating data delivery for alternative investments, a missing piece of that comprehensive reporting.
Canoe and Addepar have become natural partners as we share a very select client profile. In fact, Addepar was originally founded to solve for the aggregation of highly sophisticated portfolios, which tend to be heavily invested in alternative investments. Canoe was originally founded to automate the access to and delivery of alternative investment data. Thus, these systems complement each other. Not to mention, our organizations share similar values and many Addepar alums are now solving these challenges at Canoe.
– Tim Loughrey, VP of Client Success
Q3: Describe the scoping process in building an integration between Addepar and Canoe.
At the onset, tech and product resources from Addepar and Canoe engaged to review the integration requirements of both systems. Together, we mapped and aligned our data models, transactions, and other system elements to ensure that the integration would be seamless. As a next step, we engaged a number of mutual clients for feedback on the integration design to ensure that the final product would meet their needs
– Michelle Wilson, VP of Product
Q4: How did you collaborate with the Addepar integrations team? How did you split roles and responsibilities?
The process of building with the Addepar team involved tackling a lot of moving parts to coordinate across our teams. We had to ensure that a solution worked to enhance and bring value to experiences on both platforms, so we collaborated early and often. Reviewing user experience, our shared functionality, and keeping communication flowing ensured that we built an integration that is intuitive on both sides of the flow.
– Sam Charnizon, Product Manager
Q5: Describe the integration between Addepar and Canoe. How do mutual clients benefit?
Addepar clients have been importing their data from Canoe with a standardized data extract and Addepar's Import Tool for years. The new API integration eliminates the manual upload step so that data now flows automatically from Canoe to Addepar, either on-demand or according to a schedule set by the client. Clients can use the same filters and tags they are used to in order to select the documents to process into Addepar, but the manual import step is removed from their workflow.
– Kim Raymonde, Director of Partnerships & Integrations
Explore more about the Canoe / Addepar API integration in Addepar's Integration Center.
Q6: Is the integration between Addepar and Canoe available today? How do you plan to expand this integration and partnership over time?
We have just released the initial version of the integration that delivers transactions and valuations into Addepar using Addepar's Transactions API. We plan to follow this release with an enhanced bi-directional version that allows entities and ownership to be synched automatically between Addepar and Canoe, eliminating the duplicate data entry in the current workflow. And later this year we plan to leverage Addepar's Files API to deliver the source documents Canoe has extracted into Addepar for easy reference and use with Addepar's End-client Portal.
– Kim Raymonde, Director of Partnerships & Integrations, and Michelle Wilson, VP of Product
Q7: What do clients need to do to gain access to the Addepar / Canoe integration?
Once a client has established their Canoe and Addepar instances, it's very simple to connect the two systems. On Addepar, clients will create a user ID for the API integration, and then enter the API credentials of that user into Canoe. The systems are now connected, and the integration can be used immediately.
– Kim Raymonde, Director of Partnerships & Integrations, and Michelle Wilson, VP of Product
Next Steps
We invite you to explore how the partnership and integration between Addepar and Canoe can benefit your wealth management practice.
This collaboration with Addepar is one example of Canoe's recently launched Partner Program. The Canoe Partner Program formalizes and enhances the relationships Canoe has formed with industry-leading companies and platforms and opens up additional opportunities for expansion.
Canoe partners with both upstream and downstream systems, creating an ecosystem that streamlines and advances the collection, extraction, and delivery of alternatives documents and data.