Canoe in Action: Assessing Bank Exposure Through the Silicon Valley Bank Crisis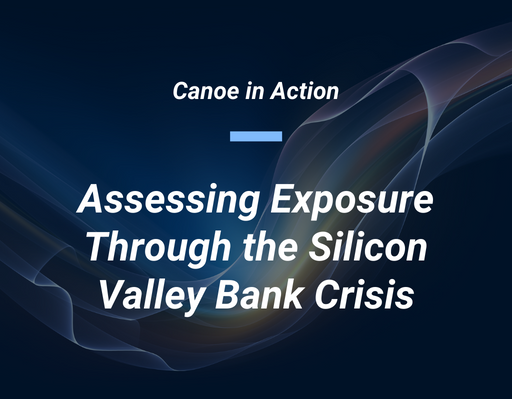 Last Friday, March 10th, was one of the busiest days of the year for many of us in the financial services industry. In the wake of Silicon Valley Bank (SVB)'s collapse, investors across the industry looked to withdraw their money and act to protect their clients' best interests.
With the crisis unfolding in the latter half of the week and ultimately rearing its head on Friday morning, the stresses many remember from the 2008 collapse of Washington Mutual Bank began once again. SVB being the second-largest failure of an insured depository institution in US history, the days immediately preceding and following were fraught with chaos and problem-solving, causing many to scramble through the weekend.
Canoe's team received a number of calls and emails from clients expressing how their creative use of Canoe's technology allowed them to easily assess exposure and pull upcoming calls that mentioned Silicon Valley Bank or other regional banks.
Canoe's clients were able to leverage the technology to quickly search investment documents, such as audited financial statements and cash flow notices, for any mention of SVB or others–as holdings or within wiring instructions–to determine which funds had exposure. Clients using Canoe's Connect offering, for systematic collection of documents, were also able to rapidly scan their Connect inboxes for manager correspondence related to SVB.
In the midst of managers requesting their funds not be remitted to the bank, Canoe clients were able to act swiftly. Alternative investing pioneer, and long-time Canoe client, Prime Buchholz immediately took action to assess their exposure to SVB.
"We would have had to rely heavily on manual processes without the Canoe platform. We were able to extract useful data for a use case outside of our typical accounting automation, which was really helpful," said Daniel Ricci, Principal/Director of Information Systems at Prime Buchholz.
Though the US government has now stepped in to contain the damage and restore trust in the banking system, the turmoil felt by many late last week continued throughout the weekend. On the other hand, for impacted Canoe clients, this process was rather manageable and efficient, providing additional confidence in the technology's ability to support them through potential future times of uncertainty or crisis.
To learn more about how you can leverage operational excellence programs to promote success during times of uncertainty, please visit our blog or request a demo from the Canoe team.
Disclaimer: At the time of writing (March 15, 2023), Canoe has no business or banking relationship with Silicon Valley Bank (SVB), Signature Bank, or any similar regional or venture-focused banking institution.